HI, I AM LYNDON. CAFFEINE + MUSIC = HAPPINESS
So you found me? I was secretly hoping you would. I've been meaning to ask what you've been doing lately? I've heard a lot of crazy things in the media and it's time you set the record straight! Contrary to what you may have heard about me, I'm actually a nice guy.

There's a moose head above me on the wall, but it's not real. It's plywood, which is still better than cardboard. Everything else in the room is real and mostly mine.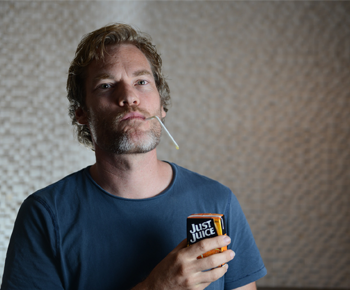 WHAT I DO
I'm a child of the seventies. Grew up in the eighties. Married in the nineties and had children in the naughties. When I grow up I want to be a bowls shark and win money from the unsuspecting elderly.
Perform as though to hundreds but sing like I'm the only person in the room. Give me, me and I'll tell everyone about you.
More Details
Isn't it time your song became part of the soundtrack to someone's life? Make the music you love, for the people you love.
More Details
This guy deserves the Crowded House comparison because this is classic pop songwriting.

Gorgeous, dreamily sung pop songs.

I just love the beginning and the end of this song. And everything inbetween, actually.

The lost art of songcraft revived, great lead vocal, harmonies everywhere and a '70s twin-tracked lead guitar! Melancholy but sweet, big full sound, more please.

Can't get enough of Lyndon Wesley's work. Really love 'Happiness is Falling Down'! It's one of those songs that you just keep playing over and over again